SOLIDARITY COUNCIL on RACIAL EQUITY
Solidarity to
Open Hearts and Minds
The W.K. Kellogg Foundation's (WKKF) enduring commitment to racial equity envisions a world where communities are spaces of equitable opportunity where all children can grow, learn, and thrive.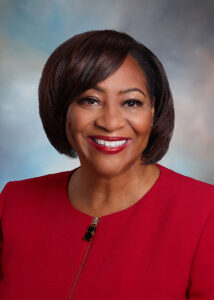 The work to transform this vision into a reality is most powerful when done in solidarity across race, culture, language, gender and lived experience. Solidarity enthusiastically affirms the inherent and equal value of each person. It calls us to recognize our shared humanity. Solidarity challenges us to honor each other's stories and chart a course for a better future.
The Solidarity Council on Racial Equity (SCoRE) draws people to collaboration in pursuit of healing, racial progress, and transformation. Its members work individually, stand collectively, and inspire others to dismantle systemic injustice. Each and every one of us has a role to play this effort. I invite you to draw insights from "Solidarity Works: Vision, Policy and Practice of the Solidarity Council on Racial Equity" and commit to acting in solidarity with people in your community.
All of us at WKKF are honored and deeply humbled to work alongside SCoRE to build the kind of world all our children deserve.
La June Montgomery Tabron
President and CEO
W.K. Kellogg Foundation